Welcome to Nutrition Services!

Now families can complete a 2016-2017 Lunch Application online... fast, easy & confidential! Click the "Lunch Application" icon above to apply for meal benefits online.

Get on track to a new healthier you...it's time to create your own personal nutrition and fitness plan using the new USDA SuperTracker. This new nutrition and fitness tracking tool combines good nutrition with a healthy dose of physical activity. Think of the SuperTracker as your very own personal trainer that helps you put together your personal health plan, setting personal health and fitness goals, and then tracks and coaches your progress. You can track what you eat, record minutes of exercise, watch your weight, and then best of all, track your progress through a series of easy to use graphical calculators and reports.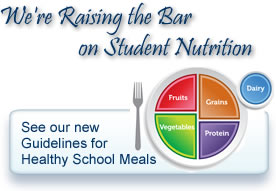 The Food and Nutrition Services department is made up of a team of food and nutrition professionals that are dedicated to students' health, well being and their ability to learn. We support learning by promoting healthy habits for lifelong nutrition and fitness practices.

The breakfasts, lunches, and other foods, beverages sold or served at schools each day meet state and federal requirements which are based on the USDA Dietary Guidelines. We provide students with access to a variety of affordable and appealing foods that meet the health and nutrition needs of students.